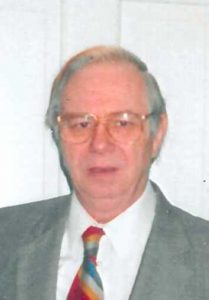 Robert D. Burken age 90 of Clinton passed away Wednesday Sept. 15, 2021 at Genesis East Medical Center in Davenport. A Mass will be held 11:00 AM Monday Sept. 20th at Prince of Peace Parish, Clinton. Visitation will be held Sunday 2:00 – 5:00 PM at the Pape Funeral Home. Burial will be at St. Irenaeus Cemetery, Clinton. Casket bearers will be his grandchildren and family members. Memorials may be given to Wounded Warriors Project. Online condolences may be left at papefh.com.
Robert was born on July 31, 1931 in Clinton, the son of Camille and Blanche (Davis) Burken. He attended St. Mary's High School, Clinton. He married Margaret Kenney on Oct. 24, 1953 in Clinton at St. Patrick's Catholic Church; she died Jan. 17, 2020. Robert was a US Army veteran. He worked at Clinton Corn Processing as a railroad track and bull operator for 28 years, retiring in 1980. He was a member of Prince of Peace Parish. He enjoyed fishing, boating, music, song writing, art, and watching sporting events on T.V., especially the Chicago Bears. He spent his retirement years building large model airplanes and boats, and a huge train out of wood. Some of his work can be seen at the Sawmill Museum.
Robert is survived by four children, Theresa Barr of Clinton, Elizabeth (Richard) Rannfeldt of Clinton, David (Carrie) Burken of Sebastian, FL, and Mary Rose Burken of Clinton; 10 grandchildren, Brian (Karlee) Barr, Steve (Ann) Barr, Michelle (Joe) Derwin, Nicole (Evan Banks) Barr, Danny Barr, Chris Rannfeldt, Carmen (Kyle Dundon) Rannfeldt, Kassy (Eric) Engle, Kyle Burken, and Amanda Albo; seven great grandchildren, Everett, Charity, Joslyn, Alexis, Bryce, Maddy, Kiben, and Kasia; and a sister, Judi Burken of Battle Creek, MI. He was preceded in death by his parents, wife-Margaret, son-Donald, and a brother-Donald.