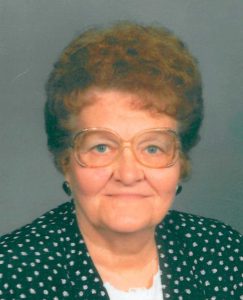 Mildred L. Boggs, 96 of Clinton, passed away Monday, May 09, 2022 at West Wing Nursing Home in DeWitt. A funeral service will be held at 11 AM on Thursday, May 12, 2022 at the Pape Funeral Home. Visitation is from 9 AM until the service hour at the funeral home. Burial will take place 1 PM Friday at Nashville Cemetery in Crandon, WI. Pallbearers will be her grandsons. Online condolences may be left at www.papefh.com.
Mildred was born in Nashville, WI on December 6, 1925, the daughter of Sylvester and Janette (Johnson) Lockwood. She graduated from Three Lakes H.S. in Wisconsin. Mildred married Harry Boggs on May 7, 1946. Harry died in 2001. Mildred worked in the shipyard at Sturgeon Bay, WI during WWII and later as a county clerk for the city of Crandon, WI. She was a member of Gateway Faith Fellowship Church in Fulton, IL. Mildred enjoyed cooking, baking, crafting, quilting, making wedding cakes and floral arrangements.
Mildred is survived by her children, Larry (Rosa) Boggs of Orlando, FL, Connie Schroeder of Andover, IA, Harry S. (Barb) Boggs of Chetek, WI, Cris (Harold) Hosette of Clinton, and Renae (Dave) Frame of Clinton; 14 grandchildren; and 36 great grandchildren. She was preceded in death by her parents; husband Harry D.; and son-in-law Ron Schroeder.