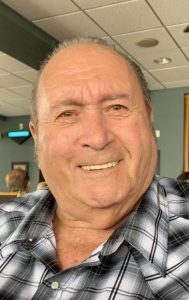 Daryl F. "Big Motors" Glahn, age 85 of Charlotte, passed away Friday, June 11, 2021 at Mercy One Hospital in Clinton. Funeral services will be held at 11:00 AM on Tuesday, June 15, 2021 at Ascension Lutheran Church in Goose Lake. Visitation will be from 3:00 to 7:00 PM Monday, June 14th at Ascension Lutheran and from 10:00 until the service time Tuesday at the church. A private family burial will be in Glahn Cemetery. Casket bearers will be Charles Clausen, Jim Cashatt, Curtis Eberhart, Daryl Eberhart, Travis Hosette, and Terry Hoenicke. Honorary Pallbearers will
be Jay Camp, Bill Christiansen, Bill Dohrman, Joel Dohrman, and Brent Eberhart. A luncheon will follow at the Millinium in Goose Lake. The Pape Funeral Home is assisting the family.
Daryl was born in Charlotte on January 2, 1936, the son of Ernest and Adeline (Passig) Glahn. He graduated from Goose Lake High School. He married Verda Mae Kellermann on June 6, 1954 at Elvira Zion Lutheran Church. Daryl farmed for many years near Charlotte as well as driving for Heartland Express, North Liberty, Iowa and participating in tractor pulls throughout the area. He and Verda Mae were charter members of Ascension Lutheran Church where he served many church positions. He loved spending time with his family and watching Turner Classic Movies.
Daryl is survived by his wife Verda Mae; a daughter, Christine Christiansen of Morrison, IL; 5 grandchildren, Brandon (Cari Jo Owens) Eberhart, Katrina (Michael) House, Hannah Christiansen, Broc (Hannah Gaffey) Christiansen and Josh (Heather) Glahn; 9 great grandchildren, Danica, Curtis, Ali, Haylee, Maggie, twins Hennessey and Hendrix, Paige and Avery and a sister-in-law Dorothy Kellermann. He was preceded in death by his parents; a son, Dirk in 2018 and brother-in-law Lyle Kellermann. Online condolences may be left at www.papefh.com.