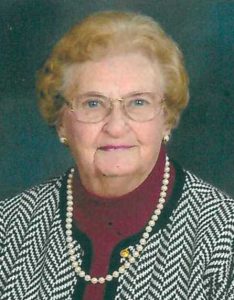 Virginia M. Bergman age 96 of Clinton, IA, passed away Wednesday July 28, 2021 at Big Meadows Nursing Home in Savanna, IL. A funeral mass will be held 10:30 AM Friday Aug. 6th at Prince of Peace Parish. There will be a Gathering at 9:30 AM until the funeral mass. Burial will be held at St. Mary's Catholic Cemetery, Clinton, IA. The Pape Funeral Home is assisting the family. In lieu of flowers, memorials may be given to Mercy Auxiliary or to the Catholic Historical Center. Online condolences may be left at www.papefh.com
Virginia was born on Oct. 19, 1924 in Norway, IA, the daughter of Achiel and Martha (Cornette) Schaubroeck. She married Raymond Bergman on June 1, 1946 in Clinton, he died in 1999. Virginia was a homemaker and a member of Prince of Peace Parish, where she was a member of the D.C.C.W. and the Ladies Auxiliary. She enjoyed going on bus trips, playing cards, bowling, and watching her grandchildren ballgames. She also volunteered for Mercy Auxiliary and the Knights of Columbus Auxiliary.
Virginia is survived by her two sons, Robert (Susan) Bergman of Clinton, IA and David (Janet) Bergman of Sugar Grove, IL; her two daughters, Jeanne Ann (Valjean) Christiansen of Camanche, IA and Barbara Malloy of Davenport, IA; 8 grandchildren, 16 great grandchildren, and several great-great grandchildren; and a brother, Jim (Sharon) Schaubroeck of Taylor Ridge, IL. She was preceded in death by her parents, 2 great grandchildren, and 4 brothers.