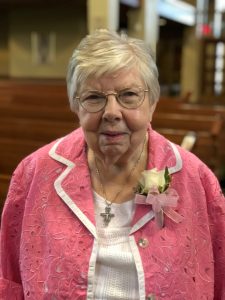 Sister Rosalie Noder was born October 19, 1930, in McNabb, Illinois, the oldest of three children of Michael Joseph and Charlotte Grasser Noder. She was baptized Phyllis Barbara on November 1, 1930, in St. Mary, Immaculate Conception Church in Mt. Palatine, Illinois. She had one brother, Michael Joseph and one sister, Frances Ione.
Phyllis attended McNabb public grade school and Swaney Grade School in McNabb; St. Mary's Grade School in Henry, Illinois; and Mount St. Clare Academy in Clinton, Iowa.
She entered the congregation of the Sisters of St. Francis at Mount St. Clare Convent on September 8, 1948, and received the name Mary Rosalie at her reception on June 20, 1949. She made her first profession on August 13, 1951, and her final vows on August 13, 1954.
Her novitiate classmates included Sisters Mary Paul Hummer, Karlene Hughes, Marie de Lourdes Davenport, Michelle Cale, and Associate Eleanore Kilcoyne.
Sister Rosalie obtained an A.A. degree from Mount St. Clare College, a B.S. in Education from Creighton University, Omaha, Nebraska, and an M. M. in Ministry from Seattle University, Seattle, Washington. She was also certified as a liturgical minister through the Liturgical Institute, Diocese of Chicago, and San Anselmo, Rome.
Sister Rosalie's early ministry was in education, teaching primary and intermediate grades in Lourdes, Fonda, and Danbury, Iowa; Chino and Oildale, California; Oak Lawn, Toluca, and Chicago, Illinois. During the 60's, Sister Rosalie felt called to become involved in the faith life of adults. In 1969, Sister Rosalie began to serve in parish ministry at St. Francis de Paula in Chicago. In her fourteen years there, she began a food pantry, a clothing center, a senior citizens' club, and the first RCIA classes. Through her efforts, a religious education program that included a cluster of six other parishes was developed. She did further parish ministry at St. Gall's in Chicago, St. Patrick of Merna in Bloomington, and St. Charles Borromeo in Hampshire, Illinois.
Following a month-long study pilgrimage to Assisi and during a year of ministry in rural Hampshire, IL, Sister Rosalie recognized a call to serve persons who were suffering from AIDS. In 1991, she became co-founder and first Executive Director of AIDS Ministry of Illinois in Joliet. She also served in positions such as Outreach Services Coordinator, Educator and Case Manager, as she continued to meet the various challenges that her ministry involved.
Sister Rosalie retired from AIDS ministry in December 2002, and volunteered at Catholic Charities of Joliet, Illinois, in the Foster Grandparents program until 2006. She then came to live at The Canticle in Clinton, Iowa, where she actively ministered in any way she could. She volunteered as a reading tutor at Jefferson School and was involved in the Clinton Ministerial Association. Even as her eyesight failed, her spirit of joy and compassion endured. She moved to The Alverno in July 2019. She died at MercyOne Medical Center, Clinton, on October 17, 2021. According to her request, her body has been donated to the University of Iowa for scientific purposes, her final gift of self for the benefit of others. Burial will be at a later date.
Sister Rosalie was preceded in death by her parents, siblings, and brother-in-law, Delbert Sanders. She is survived by the Sisters of St. Francis with whom she shared life for 73 years, her sister-in-law, Helen Noder, a niece and several nephews, cousins and friends.