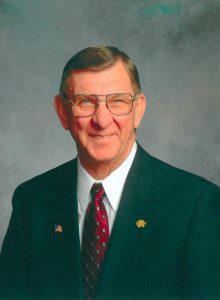 Robert L. Johnson, age 90 of Clinton, passed away Wednesday, September 15, 2021 at CGH Medical Center, Sterling, IL. Private services will be at Faith Lutheran Church in Andover, Iowa with burial in Andover Cemetery. Pallbearers will be Doug, Darwin, Dustin, Nathan, and Alex Johnson and Jeffrey Reams. The Pape Funeral Home is assisting the family.
Bob was born on October 23, 1930 in Clinton, the son of Clarence and Lillian (Schlemme) Johnson. At age 13, Bob began working for Ernie Huebner in Teeds Grove (Huebner's Garage) who rented 100 acres and put Bob to work on the land. In short order Bob fell in love with farming. He said, "I can't explain it, it just happened. I just grew to love the land." As if that were not enough, at age 18, Bob became smitten with Verana Grant, a dairy farm girl and before long life did what life does and in 1951 they committed to make a life and family together. And even more, Verana brought into their partnership her herd of dairy cows. Life was good.
With a little help from family, Bob and Verana began married life farming 120 acres raising corn and hay and milking dairy cows. Over time they expanded their operation to cattle feeding and later hogs. In 1956 they were able to buy the farm and in 1960 expanded with the purchase of an additional 80 acres. They continued expanding the farm over the next 5 decades.
Bob's past leadership and memberships include Past ICA District 16 Director, Federal Land Bank Director and Advisory Committee, 4-H Leader and Youth Committee, Clinton County Cattlemen's President, National Cattlemen's Association Member, Farm Bureau Member, Lions Club Treasurer, IBIC Board Member and Farm Bureau Advisory Board, an Andover volunteer fireman, and President of Faith Lutheran Church Council.
Bob received the Clinton County Outstanding Young Farmer Award in 1964, Wallace Master Farmer Award in 1977, and KWMT outstanding Iowa Cattle Producer Award in 1980. Bob served as a State of Iowa Representative and was appointed to a 3 year term on the Cattlemen's Beef Board in 2006.
Bob is survived by 4 children; Doug (Janet) Johnson of Beloit, KS, Diane (Richard) Reams of Ankeny, IA, Darwin (Michelle) Johnson of Clinton and Dawn (Dennis) Johnson of Ankeny; 17 grandchildren; 31 great grandchildren; a brother-in-law, Gerald (Marvel) Grant of Preston; 3 sisters-in-law, Mary Lou Johnson of Clinton, Jean Ann Johnson of Fulton and Geraldine Nolting of Bellevue, IA, and several nieces and nephews. He was preceded in death by his parents; his wife; a son Dwight; a granddaughter, Jenilee, and 3 brothers, Jack, David and Richard. Memorials may be made to Make-A-Wish, Faith Lutheran Church, or 1st Presbyterian Church, Bellevue, IA. Online condolences may be left at www.papefh.com.