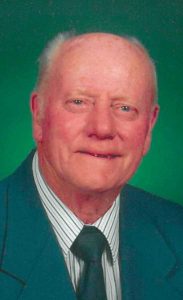 Robert E. "Bunker" Hill, age 89 of Clinton, passed away Thursday, June 17, 2021 at his home. Funeral services will be held at 10:30 AM on Tuesday, June 22, 2021 at St. John Lutheran Church. Visitation will be from 4:00 to 7:00 PM Monday, June 21st at the Pape Funeral Home and from 9:30 AM until the service time Tuesday at the church. Burial will be in Oakland Cemetery.
Bob was born in Clinton on November 14, 1931, the son of Rollie and Alice (Hagberg) Hill. He graduated from Lyons High School. He served with the U.S. Air Force during the Korean War as a Radio Operator with the Strategic Air Command and with the National Security Agency, stationed Anchorage, AK and later Washington, DC where he did top secret security assignments. Bob married Carol Lundquist on August 25, 1957 in Clinton. He was a maintenance mechanic at E.I DuPont, retiring in 1985.
Bob was a member of St. John Lutheran Church, where he was instrumental in building the outdoor pavilion, the AMVETS, and the former Odeon where he bowled for many years on Thursday nights. He coached Little League and was Troop Leader of Pack 63 Cub Scouts at Horace Mann School. He enjoyed hunting, fishing, boating, playing cards, woodworking, and doing carpentry jobs for family and friends. He cheered on the Iowa Hawkeye's and Cubs.
Bunker is survived by his wife Carol; 3 children, Doug (Lori) Hill of Tipton, Alan (Valerie) Hill of Clinton and Lori (Doug) Susie of Clinton; 4 grandchildren, McKenzie (Jacob) Blau (Esq.) of Dubuque, Dr. Ashley Susie and Rachelle Susie both of Clinton and Elle Hill of Iowa City; a great granddaughter, Dylan Blau of Dubuque and many beloved nieces and nephews and extended family. He was preceded in death by his parents; 6 sisters, Leala Nolan, Bernice Helferich, Irene Decker, Helen Diephuis, Hazel Hill and Maxine Van Norman and a brother, Dr. Leonard Hill. In lieu of flowers memorials may be made to St. John Lutheran Church or Mercy One Hospice. Online condolences may be left at www.papefh.com.