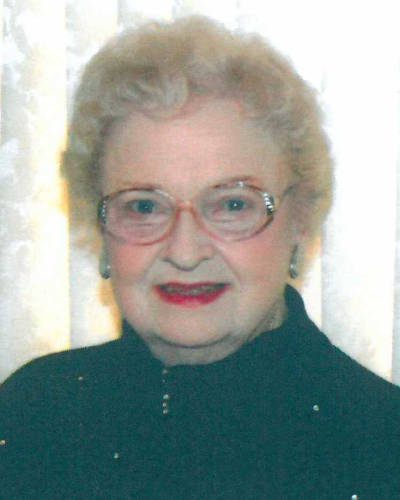 Visitation:
Visitation will begin at 10:00 a.m. at the Pape Funeral Home in Clinton.
Memorial Service:
Cremation rites have been made according to her request. A Celebration of Life service will be held Saturday, February 16th at 11:00 a.m. at the Pape Funeral Home, Clinton.
Notes:
Rita G. Turner 93 formerly of Clinton Iowa, died Wednesday Jan. 2, 2019 at Pleasant View Nursing Home in Morrison, IL. Cremation rites have been made according to her request. A Celebration of Life service will be held Saturday, February 16 at 11:00 a.m., visitation will begin at 10:00 a.m. at the Pape Funeral Home in Clinton. Online condolences may be left at www.papefh.com
Rita Gertrude McDonnell was born on Nov. 15, 1925 in Clinton, IA, to John and Mary (Dever) McDonnell. She was a graduate from Lyons High School. She married Robert Volk in 1944, they had one daughter, Kathryn Ballard Volk. Later she married Glen (Leon) Turner on Aug. 30, 1974 in Clinton; he died in 1997. Her early employment was with Johnson & Oakley, followed by General Electric at the Job Corps site in Clinton, IA. She later worked for many years as an Executive Secretary at Central Steel in Camanche. Additionally, she worked at M.W. Kellogg Construction Company, and later for ARA at Mercy Medical Center. Her love of children led her to work for a health club preschool daycare after she married Leon and moved to Muscatine, Ia. For over 40 years she was a Field Teacher for the Concept Therapy Institute in San Antonio, TX, where she received numerous achievement awards and was bestowed the highest award given by the Institute. For many years she was diligent in submitting inspirational messages and sharing her words of wisdom with the online community of Concept-Therapy.
Rita enjoyed being with family and planning family gatherings. She particularly had fun hosting the family Christmas get-togethers. She liked being involved in helping to organize the class reunions for her schools. Later in life the reunions became annual events. Her interest in politics led her to be active in promoting her favorite candidates. In the 1992 presidential campaign for Ross Perot, she made hundreds of telephone calls, and canvassed door to door for her candidate of choice. She prided herself on keeping informed with local and national events, one could visit with her on most any subject. The beloved activity that occupied most of her time was her teaching of Concept-Therapy and its principles of which she strived to guide her life.
Through the years she was a member and held offices in many local organizations including BPW, Lady of Fatima, and the Toastmistress Club. Rita never met a stranger for wherever she went she immediately kindred a friendship with those she greeted. She and her daughter especially enjoyed their morning breakfasts out and visiting with the regular patrons. She readily opened her home to anyone who needed a confidant, felt lonely or who wanted to sit and have coffee. One of her fun activities was writing poetry, she was invited to present one of her poems in Washington, DC for competition in The International Society of Poets. She received a plaque for her "Outstanding Contribution to The Art of Poetry". Poetry flowed easily from her, jotting down on pieces of paper when the words began to flow. Many of her books had these papers of her written inspirations stuffed between the pages.
Rita is survived by her daughter, Kathryn Volk formerly of Clinton, Iowa, now residing at Big Meadows Nursing Home, 1000 Longmoor in Savanna, IL., 61074; her sister, Natalie Regan formerly of Calamus now residing in Wheatland, IA, and sisters-in-laws, Gloria McDonnell (Eugene) and Norma McDonnell, (Charles), Mae O'Neal (Gerald) and several nieces and nephews. She was preceded in death by her parents, husband, and six brothers, and three sisters-in-laws, John (Bernard), (Virginia), Paul, (Lucille), Robert, (Donna), Gerald, Eugene and Charles. Memorials may be made to the family for Kathryn Volk.
Others: