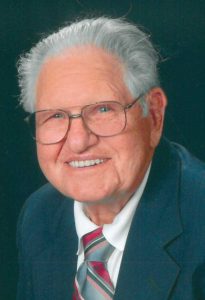 Raymond G. "Ray" Kraciun, age 94 of Clinton, passed away Wednesday, June 23, 2021 at Big Meadows Nursing Home in Savanna. A private burial was held at Smith Cemetery, Almont, Iowa. The Pape Funeral assisted the family.
Ray was born in Clinton on October 24, 1926, the Son of George and Helen Kraciun. He graduated from St. Mary's High School. He served with the Seabee's in the U.S. Navy during W.W.II. Ray married Beverly Smith in 1953. Beverly passed away in 1992. He later married Janet Smith in 1994 in Clinton. Ray was employed with Clinton Corn Processing Company retiring in 1981. He enjoyed fishing, riding his motorcycle, camping and travelling, especially spending time in Texas.
Ray is survived by his wife, Janet, daughter Kathy and Son David(Jane) both of Clinton; 2 granddaughters; a step-daughter, Cheryl(Ted) Rettowski of Clinton; a step-son, Scott (Betsy) Smith of Clinton; a sister, 4 brothers-in-law, 2 sisters-in-law and many nieces and nephews. He was preceded in death by his parents; his first wife, Beverly; and 4 brothers, Louis, Paul, and twins George and John, and a sister Anne.