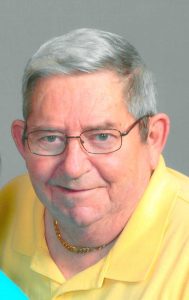 Raymond D. "Ray" Peck, age 75 of Clinton, passed away Saturday, January 15, 2022 at the Alverno. A Mass will be celebrated at 12:00 noon on Friday, January 21, 2022 at Prince of Peace Catholic Church. Visitation will be from 4:00 to 7:00 PM on Thursday, January 20th at the Pape Funeral Home where a Rosary will be recited at 6:30. Due to high Covid numbers the family requests masks to be worn. Pallbearers will be Scott Maddasion, Adam Aude, Paul Peska, Mike Leonard, Vern Maddasion, and David Peck. Following the Mass cremation rites will be accorded. Online condolences may be left at www.papefh.com.
Ray was born in Clinton on October 23, 1946, the son of Raymond F. and Rosemary M. (Fishburn) Peck. He attended Clinton Schools and Clinton Community College. He married Linda Fier on August 5, 1967 in Maquoketa, Iowa. Ray had been employed with Northwestern Bell and later he and his wife owned and operated The Telephone Works in Clinton for 28 years. He was a member of Prince of Peace Parish, the Knights of Columbus, and had served a term on the Clinton City Council. Ray was a proud grandpa. He enjoyed playing cards with his friends, fishing, camping, and golfing. Ray had been a Cub and Boy Scout leader for many years, was active in Clinton Junior Baseball and served on the board for Riverboat Days.
Ray is survived by his wife Linda, 2 children, Christopher D. Peck of Chandler, AZ and Julie M. (Luke) Crane of West Columbia, TX; a grandson, Tyler Crane; his sister, Rosanne (Jim) Peska of Fulton; his brother, Pat (Sue) Peck of Wilton, IA; brothers-in-law, Gary (Mary) Fier of Clinton and Al (Cindy) Fier and Pat (Christie) Fier both of Maquoketa; Sisters-in-law, Kathy (Don) Kunde and Shelley (Joe) Heinrich both of Maquoketa; several nieces and nephews and long-time friends, Jim and Patty Turner, Sindy and Larry Espe and Skip and Judy Carstensen. He was preceded in death by his parents. The family would like to give special thanks to the staff and caregivers at the Alverno for the support and care they gave to Ray. Memorials may be made to Prince of Peace Church.