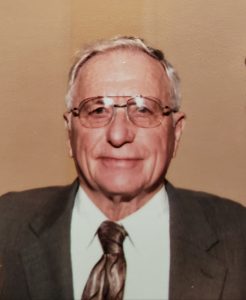 Owen W. Bailey, age 96 of Fulton, IL passed away Thursday, April 15, 2022 at his home. In following Owen's wishes cremation rites will be accorded with a celebration of life schedule June 8th @ 11 AM at Buzzy's, 414 Main Street, Welton, IA. Family and friends are invited. The Pape Funeral Home is assisting the family. Online condolences may be left at www.papefh.com
Owen Bailey was born December 9, 1925 in Jackson County, IA, to Charles and Margaret (Klemme) Bailey. He attended Clinton county schools. Owen was honorably discharged from the US Army, having served during WWII as a Tech Sergeant.
Throughout his life Owen worked hard, a quality he instilled in his children and grandchildren. He farmed in Jackson County, was a delivery driver for Elmwood Dairy, and retired from Camanche Schools after serving as a maintenance worker and bus driver. He was a people person and enjoyed good conversation and laughter. Garage sales were a favorite pastime, which resulted in him acquiring several collections including antique tools, John Deere memorabilia, and a large selection of hats. He also spent many years displaying John Deere tractors in parades and shows.
Owen is survived by his children Sandra (Steve) Bull of Fulton, IL and Allen (Maureen) Bailey of Fulton, IL; five grandchildren; three step-grandchildren; eight great grandchildren; four step-great grandchildren; two sisters Charlene Petersen and Catherine Bailey, both of Maquoketa; numerous nieces and nephews, and many close friends. He was preceded in death by his wife Betty; his parents; sisters Marian and Maxine; brothers Robert and Frank; and a half-sister Jennie.