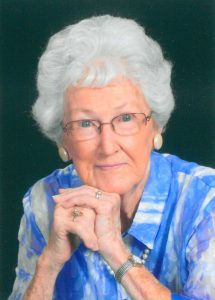 Mary T. "Cookie" Hansen, age 91 of Clinton, passed away Saturday, June 12, 2021 at her home. A Mass will be celebrated at 10:30 AM on Friday, June 18, 2021 at Prince of Peace Church. Visitation will be from 4:00 to 7:00 PM Thursday at the Pape Funeral Home. Burial will be at St. Irenaeus Calvary Cemetery.
Cookie was born in Welton, Iowa on August 3, 1929, the daughter of Frank and Bertilla (McGinn) McClimon. She graduated from St. Mary's High School and received her nurses training at Loyola in Chicago. Cookie married Thomas Hansen on June 30, 1951 in Clinton. Tom passed away in 2007. She was a Registered Nurse in the OB department at St. Joseph Mercy Hospital retiring in 1987. She was a member of Prince of Peace Parish, Prince of Peace Auxiliary, Mercy Auxiliary, and the Fulton County Club. Cookie volunteered at Prince of Peace on the luncheon committee, enjoyed golfing, fishing, and playing cards, especially bridge.
Cookie is survived by 5 children; Tom Hansen of Ames, IA, Tim (Bernie) Hansen of Sebring, FL, Mary Ann (Jerry) Hyatt of Stockton, CA, John Hansen of Kansas City and James (Brian O'Neill) Hansen of Rochester, NY; 7 grandchildren, Wally, Christina, T.J., Emily, Sarah, Skylar and Haley; 5 great grandchildren, Jerrod, Maddy, Emma, Lily, and Ella. She was preceded in death by her parents; a son, Mike in 1986; her husband; a sister, Betty Lou and 2 brothers, James and Jack. Memorials in Cookie's name may be made to the Victory Center or mercy Hospice. Online condolences may be left at www.papefh.com.