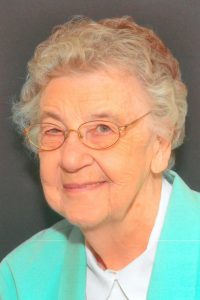 LaVonne Bond Barnes, age 97 of Clinton, passed away Saturday, July 10, 2021 at the Alverno. Funeral services will be held at 2:00 PM on Thursday, July 15th at the Pape Funeral Home. Visitation will be from 12:30 until the service time Thursday at the funeral home. Burial will be in Clinton Lawn Cemetery. Pallbearers will be LaVonne's grandchildren.
LaVonne was born in Ackley, Iowa on December 7, 1923, the youngest daughter of Cleo A. and Mary (Brodie) Bond. She graduated from Gilbert High School, Gilbert, Iowa in 1942. LaVonne married the love of her life, Harry Edward Barnes, Jr. on May 22, 1943 in Ames, Iowa. Harry and LaVonne moved to Clinton in 1960. Harry passed away on March 22, 1990. LaVonne was a switchboard operator for several businesses, retiring from Clinton Corn Processing Company in 1979. She was a member of Lyons/Trinity Methodist Church, Loyal Order of Moose, and the Fulton County Club, where she golfed until she was 86 years old because she always wanted to shoot her age. She enjoyed playing cards with her card club members, bowling in her younger days and was an avid reader. LaVonne was an artist and painted many scenes in acrylics. She also penned several booklets of her younger days of farm life and many short stories from her vivid imagination.
Lavonne is survived by 2 children; Sandra Abbott (Bud) Kiene of Maquoketa, Iowa and Gary Edward (Mic) Barnes of Clinton; 3 grandchildren, Amy Henrikson, Peter (Abbey) Abbott and Chad (Rhoni Jo) Barnes; 8 great grandchildren, and several nieces and nephews. She was preceded in death by her parents, her husband, two sisters and 2 grandchildren, Jennifer and Matthew.