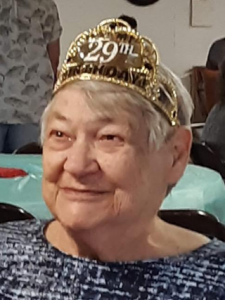 Juanita V. Lenson, of Thomson, IL, who celebrated the 63rd anniversary of being 29 on her last birthday, passed away Tuesday, October 12, 2021 at Mercy One Hospital at the age of 92. A celebration of life will be held from 1-4 PM on Saturday, October 23rd, 2021 at the American Legion in Thomson, IL. In following Juanita's wishes cremation rites have been accorded. The Pape Funeral Home, Clinton, is assisting the family.
Juanita was born in Galena, Kansas on June 30, 1929, the daughter of James O. and Josephine (Schneiders) Dake. She was employed at many different businesses, doing many different jobs, including the lunch counter at Woolworth's and an AVON lady for 40 years. She was a member of Prince of Peace Parish. Juanita loved to travel. She enjoyed knitting, especially afghans, and bowling.
Juanita is survived by 3 daughters, Cathy (Frank) Martinez of Indianapolis, IN, Helen Albertson of Summerville, SC, and Juanita (Jimmy) Arp of Dalton, GA; a son, David (Beverly) Albertson of Clinton, MO; 8 grandchildren; 17 great grandchildren; 12 great-great grandchildren; 2 brothers, Charles (Gwen) Dake of Miller, MO and John (Helen) Dake of Coffeyville, KS; 3 sisters, Georgia (George) Kramer of Clinton, Rebecca Kramer of Cedaredge, CO, and Barbara Hixenbaugh of Galena, KS and many nieces and nephews. Memorials may be made in honor of Juanita to the Ronald McDonald House. Online condolences may be left at www.papefh.com.