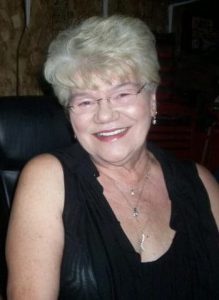 Joyce A. Murphy, age 78 of Clinton, passed away Thursday, November 25, 2021 at her son's home in Thomson, IL. In following Joyce's wishes cremation rites will be accorded. There will be no visitation or services. The Pape Funeral Home is assisting the family.
Joyce was born in Moline, IL on October 28, 1943, the daughter of Rene' and Rachael Ray (Andersen) De Grande. She graduated from Capri College and was a beautician for many years. Joyce married James F. Murphy on December 2, 1961 in Davenport. Jim passed assay on February 26, 2010. Joyce enjoyed sewing, being a homemaker and would do anything for anybody.
Joyce is survived by 4 children; Guy (Susan) Murphy of Thomson, Scott (Wendy) Murphy of Clinton, Patrick (Cara) Murphy of Clinton, and Dan Murphy of Thomson; 9 grandchildren and 8 great grandchildren. Online condolences may be left at www.papefh.com.