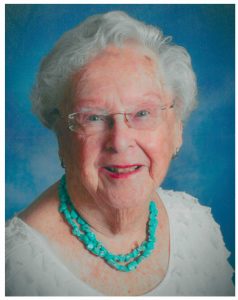 Irene M. VanNieuwenhuyse age 97 of DeWitt, IA, passed away Wednesday Jan. 19, 2022 at Genesis Health-DeWitt. A Mass will be held 10:30 AM Friday Jan. 28th at St. Joseph Catholic Church in DeWitt. Visitation will be held Friday Jan. 28th from 9:00 AM until the service at the church. The Pape Funeral Home is assisting the family. Burial will be at St. Boniface Catholic Cemetery. Memorials can be made to the Clinton Humane Society or Pathways Living Center. Online condolences may be left at www.papefh.com.
Irene was born on Dec. 2, 1924 in Evanston, IL, the daughter of Auguste and Alida (Verbeke) DeVinck. She graduated from Evanston High School in 1943. She married Gaston VanNieuwenhuyse on Oct. 25, 1947 in Moline, IL; he died in 2002. Irene was a homemaker and worked as a nurses aid at a pediatrician's office. She was a member of St. Joseph Catholic Church, DeWitt and active with the U.S.O. Irene and Van enjoyed many years of retirement in Florida together. She enjoyed golfing, swimming, ceramics, and spending time with her grandchildren.
Irene is survived by two daughters, Jean (Jim) Adams and Mary McLaughlin both of DeWitt, IA; six grandchildren, Kelly, Molly, Sally, Carol, Andrew, and Emily; nine greatgrandchildren, Aviva, Natalie, James, Andrew, Nina, Madeline, Joseph, Ignatius, and Abraham. She was preceded in death by her parents, husband, her daughter, Sally, her son, Paul, and a brother – Walter.