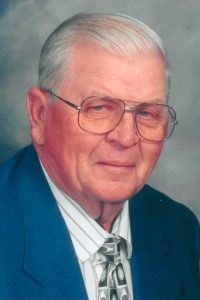 Gilbert E. Diercks age 96 of Clinton, passed away Wednesday Sept. 15, 2021 at Mill Valley Care Center, Bellevue. Funeral services will be held 11:00 AM Monday Sept. 20th at Faith Lutheran Church in Andover. Visitation will be held Monday 9:30 AM until the service hour at Faith Lutheran Church. The Pape Funeral Home is assisting the family. Burial will be at Andover Cemetery. Casket bearers will be Dale, Dennis, and Dwayne Schroeder, Lonnie and Jeffrey Diercks, and Michael Johnson. Memorials may be given to Faith Lutheran Church or Camp Courageous. Online condolences may be left at papefh.com.
Gilbert was born on April 11, 1925 in rural Andover, the son of Emil and Agnes (Henningson) Diercks. He married Dolores Cornilsen on Aug. 3, 1947 in Preston, Iowa. He farmed his whole life on the family Century Farm in Clinton County. He was a member of Faith Lutheran Church, Andover, the Cattleman's and Pork Producers Associations; Lions Club, Farm Bureau Association, Andover Volunteer Fire Department, Izaak Walton League, ASC Office, DeWitt, and a trustee with Elk River Township. He enjoyed going on Cattleman's tours, playing cards, family time, and driving his side-by-side on the farm.
Gilbert is survived by his wife, Dolores Diercks; six children, Brenda Johnson of Thomsen, IL, Rick (Kathy Schoel) Diercks of Clinton, Carol Diercks of Clinton, Kevin (Patti) Diercks of Andover, Lisa (Tim) Till of Bellevue, IA, and Michael Diercks of Clinton; seven grandchildren, Michael (Rachel) Johnson, Kristen (Chad) Rahe, Jill (Jeff Hart) Diercks, Jennifer (Josh Wall) Diercks, Kelli (Ben) Daehler, Lindsey Long, Lauren (Keaton Tebbe) Till; 9 great grandchildren and 4 great-great grandchildren; his sister, Darlene Schroeder of Clinton; and several nieces & nephews. He was preceded in death by his parents, infant grandson, Brandon Till, grandson-in-law, Collin Long, a brother, Vernon Diercks, and a sister, Laverne Myers, and son-in-law, Richard Johnson.