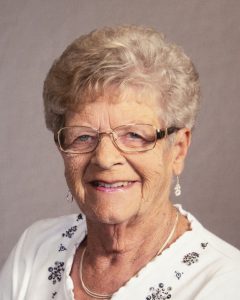 Geraldine E. (Gerry Pestka) Dixon, 81, of Clinton, passed away peacefully on Sunday, July 11, 2021, at the University of Iowa Hospital as her daughters, Terese and Sue, prayed at her bedside. An added special blessing is that her mother (Grandma Pestka) passed away 45 years ago on this very same day. Visitation will be from 3-8 pm on Friday, July 16, 2021 at Pape Funeral Home, Clinton, IA with a rosary at 3 pm. Mass of Christian Burial will be at 10:00 am on Saturday, July 17, 2021 at Jesus Christ, Prince of Peace Catholic Church, Clinton, IA, with visitation from 9:00 am until the start of Mass. Burial will be in St. Irenaeus Catholic Cemetery. Online condolences may be left at www.papefh.com.
Gerry was born in Clinton, Iowa on December 28, 1939, the youngest daughter of Joseph and Marie (Schreiner) Pestka. She attended St. Boniface Catholic School, Mount St. Clare Academy, and Mount St. Clare College in Clinton, IA. She married Ronald E. Dixon on November 19, 1960 at St. Boniface Catholic Church, Clinton, IA. He preceded her in death on October 31, 2018, 19 days short of their 58th wedding anniversary. Gerry worked at Nielsen Clearing House, Burpee Seeds, Tastee Freeze, and International Paper, all in Clinton, IA; the C-Store in Goose Lake, IA; and retired from Mercy Hospital, Clinton, IA. Gerry enjoyed being outdoors where she could people watch and especially loved playing cards and games with her children, grandchildren, great grandchildren, and friends.
Those left to love and remember Gerry include her five children, Terese (David) Larres of Port St. Lucie, FL, David (Missy) Dixon of Sabula, Sue (Rich) Meyer of Dubuque, Brian Dixon of Davenport, and Tim Dixon of Clinton; 4 grandchildren, Lauren (Jordan) Rosales, Justin (Emily) Larres, Elise Larres, and Joseph Larres; 4 great-grandsons, Jude Denton and Landon, Elijah and Dominic Larres; 1 sister, Ruth (Robert) Jost of Clinton; 3 sisters-in-law, Barb Dixon of North Liberty, Carol Godat of Clinton, and Karen Dixon of Circleville, OH, and many nieces and nephews.
Gerry was preceded in death by her loving husband of 58 years, Ron, her parents and 2 sisters, Joan Miller and Madonna (Waters) Gibson, twin infant brothers, and an infant sister.
The family would like to extend a sincere and heartfelt "thank you" to the staff at the University of Iowa Hospital for their exemplary care and compassion during Gerry's last days. Dr. Melinda Johnson's personal attention and guidance, not only to Gerry but also to the family, provided much-needed comfort and support during this difficult time. Online condolences may be left at www.papefh.com. The family requests donations to St. Jude's Children's Hospital or to the family's wishes.