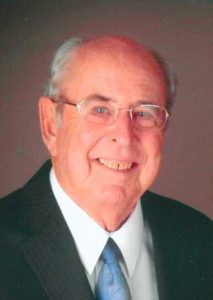 Gerald F. "Bumpa" Jost age 92 of Bryant, Iowa, passed away Thursday Sept. 23, 2021 at The Alverno Health Care Facility, Clinton, Iowa. A Mass will be held 11:00 AM Monday Sept. 27th at Prince of Peace Parish, Clinton. Visitation will be held Sunday
4 – 7 PM at the Pape Funeral Home and Monday 10:00 AM until the service hour at Prince of Peace. A family graveside service will be held at Center Grove Cemetery, Bryant at a later date. Casket bearers will be his grandsons, Brian Jost, Matthew Jost, Steve Jost, Evan Larsen, Nathan Good, and Patrick Hall. Honorary pallbearer will be Paul Larsen. Memorials may be given as family wishes. Online condolences may be left at www.papefh.com.
Jerry was born on March 23, 1929 in Clinton, Iowa, the son of Mathias "Ferd" and Anna (Wagemester) Jost. He graduated from St. Mary's High School, Clinton. He married Marilyn Eggers on Sept. 23, 1950 in Clinton. He served in the US National Guard. Jerry farmed most of his life, with his son, David, for over 45 years. He worked for Curtis Company for 15 years and was an Advertising Executive for the Clinton Herald for over 25 years. He was a member of Prince of Peace Parish. He had a passion for farming, enjoyed woodworking, cars, watching NASCAR, and loved to dance. He loved being with family and making memories the family would cherish the rest of their lives, such as family vacations to Florida, snowmobiling in Wisconsin, and especially going to the lake house at Lake Thunderhead in Missouri.
Jerry is survived by his wife, Marilyn (Eggers) Jost of Bryant, IA; three children, David (Julianne) Jost of Bryant, IA, Dennis (Jane) Jost of Ankeny, IA, and Debra (Wayne) Larsen of Elm Grove, WI; seven grandchildren, Brian (Melissa) Jost, Kelly (Nathan) Good, Matthew (Becky) Jost, Stephen (Erin) Jost, Sarah (Patrick) Hall, Paul (Danielle) Larsen, and Evan (AJ Avedon) Larsen; 11 great grandchildren, Ethan, Kate, Connor, Adelia, Lauren, Theo, Lila, Lennon, Marlie Jo, Remy and Rowan; his sister, Betty Jost of Clinton; three nieces and a nephew, and a cousin, Gregg Crawford and his daughter, Libbie Crawford. He was preceded in death by his parents, his step-mother, Ida (Wagemester) Jost, a grandson, Shawn Patrick Jost, a brother, Raymond Jost, a sister, Dorothy Quinlan, a niece and a nephew.