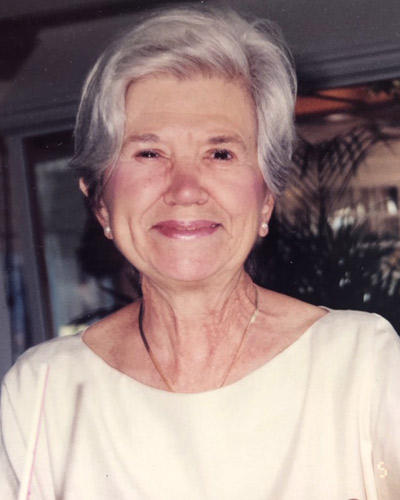 Visitation:
9:30 to 11:00 AM Friday, June 21, 2019 at Prince of Peace Parish
Memorial Service:
11:00 AM Friday, June 21, 2019 at Prince of Peace Parish
Notes:
Elizabeth J. (Betty) Cavanaugh, 92, died peacefully June 9, 2019 at The Alverno Health Care Facility following a brief illness. Visitation will be held from 9:30 AM until the funeral Mass at 11:00 AM, followed by a luncheon in the parish hall, Friday, June 21, 2019, at Prince of Peace Church, Clinton. Burial will take place at St. Boniface Cemetery. Memorials may be made to Prince of Peace Church or School.
The youngest child of Elizabeth (Manemann) and Leo N. Rosenberger, Betty was a nearly lifelong resident of Clinton, where her father spent his career as a Linotype mechanic and operator at the Clinton Herald for 52 years. Born February 23, 1927, she attended St. Mary's grade school, was a 1945 graduate of Clinton High School and the devoted wife of Robert E. Cavanaugh, 1944 CHS grad. They were high school sweethearts, married for 46 years until his death in 1994. While Bob served in the Army Air Corps in the Philippines, Betty was named the 1945 Gateway Classic Queen at CHS where many friends and supporters awaited the return from service of their patriotic classmates. Betty and Bob were married at St. Boniface Church on September 16, 1947.
Betty and Bob raised four daughters during their Clinton years. Carol Kearney (Raymond) of Los Angeles, CA, Elizabeth Gaughan (John) of Grayslake, IL, Danette Hunt (Randy) of Clinton, and Sally Schule (Bradd) of Bradenton, FL.
Their daughters benefitted from their mother's excellent homemaking lessons and educational support, showing them a "Gramma Betty" style of parental devotion for their own future families. Piano and dance lessons, art instruction and creative inspiration were pathways promoted by dear mother Betty.
The Cavanaugh girls blessed their parents with 12 grandchildren: Rachael Androski (Jack) of Anchorage, AK, Michelle Staffield (Chris) of San Pedro, CA, Jennifer Ryan (Diarmuid) of Portland, OR, David Kearney of Los Angeles, CA, John Gaughan of Edwardsville, IL, Michael Gaughan (Kimberly) of Gurnee, IL, Maureen Vestal (Jeff) of Evanston, IL, Brandon Hunt (Scott) of Atlanta, GA, Justin Hunt (Shannon) of Seattle, WA, Vanessa Hunt (deceased), Kaylea Schule and Tyler Schule of Bradenton, FL. These grandkids learned quickly to understand the rules and enjoy the fun times, love and affection awaiting them at Gramma's house.
Betty joyously welcomed her 17 great grandchildren Jackson, Eddie, Charlie, Liam, Mae, Casey, Emma, Ellie, Georgia, Leah, Colin, Sloane, Belle, Xavier, Asher, Evelyn and Fiona. Betty looked forward to their visits with delight, noticing their talents and childhood development.
Betty was kind and gracious to her numerous relatives and friends and had caring relationships with many young people in the spirit of a second mother. She generously gave of her time and support to St. Mary's Church, volunteering over the decades for parish organizations and projects to share her energy and love for the Catholic faith. She later became a member of the Prince of Peace community.
During short periods of her young years, she was employed locally at Van Allen's Dept. Store, The City National Bank and Pillsbury Co. Betty and Bob owned and operated the Clinton Greyhound Bus Depot for many years before moving to Crystal Lake, IL, when he was employed by Kemper Life Insurance. She worked briefly at the Crystal Lake Herald before returning to Clinton after Bob's death. She was a member of the HV Chapter of PEO, and volunteered as a reading mentor in the Clinton Public School System. Once her vision declined, she became a member of the Visually Impaired People Support Group.
Betty expressed a passion for interior decoration and every home was a reflection of her knack for design. Fine arts and art history were a lifelong interest and she filled her home with numerous examples of her favorite masterpieces. Artistic talent was a source of excitement, yet she routinely also took pleasure in entertaining, gardening, cooking, dancing and singing which always filled Betty's days with energy and commitment to detail.
Betty was preceded in death by her parents, her husband Robert, son-in-law John Gaughan, infant granddaughter Rebecca Klaes, granddaughter Vanessa Hunt(affectionately called daughter #5 by Gramma Betty), infant sister Phyllis, brothers Vernon and Leo C. and his wife Barbara Rosenberger, sister-in-law Janet Rosenberger, brother-in-law David Cavanaugh and his wife Janet. She is survived by her children, her grandchildren and great grandchildren, brother Robert Rosenberger, sisters-in-law Lynn Rosenberger and Patricia (Jack) Carstensen, numerous nieces and nephews and cousins.
Others: