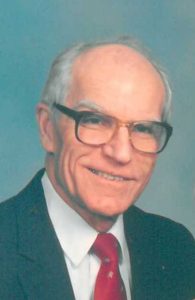 E. Eugene "Gene" Rall, age 94 of Davenport, IA, formerly of Clinton, IA, was called home to his Lord on Sunday, July 18, 2021 at the Davenport Lutheran Home. A funeral service of comfort, hope, and celebration will be at 1:30 Thursday, July 22 at St. John Lutheran Church in Clinton, followed by burial with military honors at Springdale Cemetery. Online condolences may be left at www.papefh.com. Visitation will be Wednesday, July 21 from 5:00-8:00 PM at Pape Funeral Home, and one-half hour prior to the service.
Gene was born February 1, 1927 in Sheridan County, NW Kansas, a son of Frank and Irene (Richter) Rall. He was baptized into the Christian faith at Immanuel Lutheran Church, Hoxie, KS on February 5, 1927 and confirmed into that faith on May 26, 1940. He graduated from Rexford, KS High School and served in the United States Navy from February 1945 to August 1946. He graduated from St. John's College, Winfield, KS in 1949, and Concordia Seminary, St. Louis, MO in 1956. He was joined in marriage to Geraldine "Gerri" Thane on June 15, 1958 at Emmanuel Lutheran Church in Knippa, TX. He liked to say that with a steady stream of letters and all his free time over a year and a half, he finally persuaded her (a "lovely young lady") to marry him, and like three of his brothers "rescued a lady from life in Texas". In his words, "I thank God for providing me such a neat 'suitable helper' and wonderful life companion, and for His love and care through these many years." Gene served as pastor and sometimes schoolteacher at Lutheran churches in Pearsall and McAllen, TX; Minneapolis, Chisholm, Warren and Radium, MN; and Clinton, IA. He later worked for a time in real estate in Clinton.
He felt strongly about the study of scripture and sharing the love of God in Christ in his daily life. He led several long-term Bible study groups, and for many years served as a Stephen Ministry leader. He found fulfillment in volunteering with Partners for Exceptional People and Meals on Wheels, and enjoyed woodworking, music, and reading. Later in his life, he made it a point not to go to bed before he'd had a good bowl of ice cream.
Gene is survived by three children: Christine Rall of Davenport, Timothy (Josie Ellis) Rall of Brewer, ME, and David (Rebecca) Rall of Davenport; three grandchildren: Delaney, Logan, and Julia Rall; two step-grandchildren: Mikey and Eileen Nunley; a sister, Velma Rasmussen of Colby, KS; and many nieces and nephews. He was preceded in death by his wife, Gerri (April 2020), his parents, four brothers, and four sisters. Online condolences may be left at www.papefh.com.