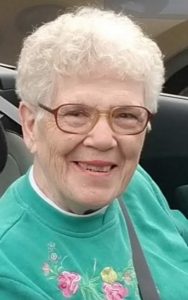 Donna M. Reafsnider, age 83 of Clinton, passed away Sunday, October 17, 2021 at her home. A Mass will be celebrated at 10:30 AM on Thursday, October 21st at Prince of Peace Parish. Visitation will be from 4:00 to 7:00 PM Wednesday at the Pape Funeral Home. Burial will be in St. Irenaeus Calvary Cemetery.
Donna was born in Clinton on October 19, 1937, the daughter of Paul and Helena (Jurgensen) Gladhill. She graduated from Clinton High School. Donna married David Reafsnider on April 14, 1956 at St. Irenaeus Church in Clinton. Donna was a member of Prince of Peace Parish, the former Odeon Club, and former Eagle Club. She enjoyed spending time with her family and grandchildren, bowling, playing cards, puzzles, antiquing, shopping, and traveling with her daughter to visit family and friends. She followed the Chicago White Sox and was a huge Payton Manning fan.
Donna is survived by her husband David; 5 children, Michael (Laurie) Reafsnider of Clinton, Brian Reafsnider of Clinton, Lois Reafsnider of Clinton, James (Carol) Reafsnider of Goose Lake and Bruce (Vickie) Reafsnider of Bowling Green, KY; 7 grandchildren, Amanda, Nathan, Patrick, Travis, Megan, April and Codie; 4 great grandchildren, Alex, Brantley, Ava and Archer and several nieces and nephews. She was preceded in death by her parents; 7 brothers, Paul, George, Gary, Wayne, Jackie, Kenneth, and Robert, and 7 sisters, Pauline, Eleanor, Wanda, Helen, Marie, Alberta, and Janene. Online condolences may be left at www.papefh.com.