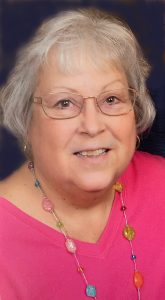 Debra S. Weston age 65 of Eldridge, IA passed away Friday July 23, 2021 at Select Specialty Hospital in Davenport. Funeral services will be held 11:00 AM Friday July 30th at the Pape Funeral Home, Clinton. Visitation will be held Friday 9:00 – 11:00 AM at the Pape Funeral Home. Burial will be at Clinton Lawn Cemetery. Online condolences may be left at www.papefh.com
Debra was born on June 1, 1956 in Ottumwa, IA, the daughter of Raymond and Marilyn (Long) Jacks. She married Howard Paysen in 1975 in Clinton, and together welcomed their son Jim in 1981. She later married James Weston on May 21, 2011 in Davenport. She operated an at-home daycare for many years and later worked at Valley Bank as an assistant manager. Debra was a member of Faith Lutheran Church in Eldridge. She loved making memories with her cherished family and friends, and was delighted to recently welcome her youngest granddaughter, Rion Debrah, into the world. She also enjoyed playing cards and bingo, cooking, dancing, and watching NASCAR and the Food Channel. She adored her two cocker spaniels, Daisy and Dixie.
Debra is survived by her husband, James Weston of Eldridge; her son, Jim (Erin) Paysen of Bettendorf; stepson Jamie Weston, stepdaughter Sara Weston, four grandchildren, Jasmyn, Shayla, Lauryn, and Rion; a brother, Ron (Rose) Jacks of Waverly, IA, nieces Morgan Jacks and Kaitlin Jewell, and nephew Cooper Jacks. She was preceded in death by her parents and her beloved sister, Carol.