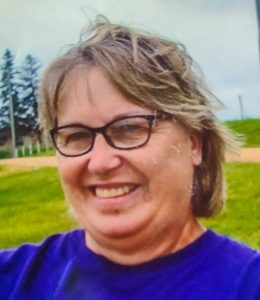 Debra J. Shannon age 68 of Miles, IA, passed away Tuesday June 1, 2021 at the University of Iowa Hospital in Iowa City. Cremation rites will be accorded. A memorial service will be held 10:30 AM Saturday June 5th at Pape Funeral Home, Clinton. Visitation will be held Saturday 9:30 AM until the service hour at the funeral home. Burial will be at Miles City Cemetery. Following the burial a luncheon will be held at the Stockyard in Andover. Online condolences may be left at www.papefh.com. If you are unable to attend, memorials may also be made via Venmo: @Pat-Birchem.
Debra was born on April 29, 1953 in Maquoketa, IA, the daughter of Ralph and Alene (Meyer) Flor. She graduated from Miles High School in 1972. Debra married Curt Shannon on Aug. 11, 1973 in Preston, IA. She worked as a cook at East Central Schools, The Alverno, and the Maquoketa Care Center. She was a member of Miles Presbyterian Church. She enjoyed spending time with her family, doing yardwork around the house, and her dogs, Widdle and Ginger.
Debra is survived by her husband, Curt Shannon of Miles, IA; three children, Jennifer (Patrick) Birchem of Urbandale, IA, Matt (Trisha) Shannon and Michael (Typhany) Shannon both of Sabula, IA; 10 grandchildren, Kyla, Kale, Kellen, Paxton, Oakley, Knox, Colt, Milena, Brady, and Kai; her mother, Alene Flor of Teeds Grove, IA; and two sisters, Barb (Jim) Miller of Fulton, IL and Patricia (John) Earles of Princeton, IA. She was preceded in death by her father, Ralph Flor and her grandparents.