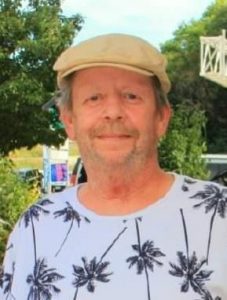 David F. Hickey, age 70 of Clinton, passed away Tuesday, November 23, 2021 at his home surrounded by his family. In following David's wishes cremation rites have been accorded. A celebration of life will be held from 3:00 to 6:00 PM Saturday, December 4, 2021 at the Pape Funeral Home. A service will begin at 6:00 PM.
David was born in Clinton on June 6, 1951, the son of James Hickey, Jr. and Ercella Frances (Cady) Hickey, Jr. He attended Clinton Schools. David married Lorraine Wilkerson on June 29, 1990 in Clinton. He was employed with JE Merrit at ADM. David had also worked at Jim Walters Window Components, Central Steel and Dairy Pac. He enjoyed golfing, fishing, playing poker and softball and his time at Walker's. David was an avid Cubs fan and had followed Dale, Sr. and Dale, Jr. in NASCAR.
David is survived by his wife, Lorraine; 2 children, Joe (Misty) Hickey of Holt, MO and Joshua (Danyka) Hickey of Clinton; a step-son, Brent (Lynn) Wilkerson of Two Rivers, WI; 7 grandchildren; 1 great grandson; 3 brothers, William (Marva) Hickey of Las Vegas, and Raymond and Lloyd Hickey both of Clinton; 2 sisters, Mary Helmle and Jamie Johnson both of Clinton; a sister-in-law, Gwenn Hickey of Boise, ID and several nieces and nephews including a special niece, Shawn Felts of Morrison. He was preceded in death by his parents; brothers, Steve Hickey, William Cady, Terry Hickey and Tim Hickey; a sister, Sandra Legge and 2 brothers-in-law, Bill Johnson and Clyde Helmle. Online condolences may be left at www.papefh.com.