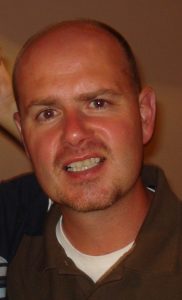 Corey R. Hyde, age 51 of Clinton, passed away Sunday, May 1, 2022 at his home. Funeral services will be held at 11:00 AM on Saturday, May 7th 2022 at the Pape Funeral Home. Visitation will be from 4:00 to 7:00 PM Friday at the funeral home. Burial will be at a later date in St. Mary's Cemetery. Online condolences may be left at www.papefh.com.
Corey was born in Clinton on December 25, 1970, the son of Richard and Judy (Foley) Hyde. He graduated from Clinton High School. Corey married Dawn Darsidan on October 19, 1991 in Clinton. He was a supervisor at Car-Freshner in DeWitt. Corey had also been employed with Dairy Pak as a supervisor and later as Safety Supervisor with Jacobs Construction at ADM. Throughout his life he enjoyed family trips, fishing, boating, motorcycle riding, golfing, following NASCAR, and spending time building projects in his garage. He was very interested in the history of Clinton.
Corey is survived by his wife, Dawn; a son, Connor Hyde of Cedar Rapids; 2 sisters, Chris (Dan) Powers of Clinton and Roxanne Selser of Peoria, IL; a brother, Vern Hyde of Davenport and nieces and nephews. He was preceded in death by his parents and a sister, Tammy. Memorials in Corey's name may be made to Clinton Historical Society or Speak Out Against Suicide, 1805 So. Washington Blvd., Camanche, IA 52730.