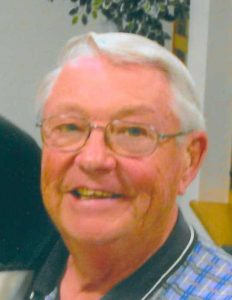 Charles "Chuck" J. Thornton, age 86 of Clinton passed away peacefully surrounded by family on Wednesday, January 19, 2022 at Bickford Cottage. A visitation will be from 1:00 to 5:00 PM Sunday, January 23rd at the Pape Funeral Home. A Mass will be celebrated at 11:00 AM on Monday, January 24th at Prince of Peace Catholic Church. Following the service, a burial will be in St. Irenaeus Calvary Cemetery. For the safety of everyone, the family respectfully requests masks be worn. Pallbearers will be Derek, Matthew, Mark and Eric Thornton, Tim Reid, Ryan Weaver and Brian Richard. Online condolences may be left at www.papefh.com.
Chuck was born in Clinton, Iowa on June 4, 1935, the son of Charles H. and Florence (Frank) Thornton. He graduated from St. Mary's High School in 1953. He served in the U.S. Army during the Korean War. Chuck married Joanne Fife on May 21, 1955 at St. Mary's Church in Clinton. Following his time in the service, Chuck returned to Clinton to continue working with his parents at Sweetheart Bakery. In 1962, the family moved to Fairfield, Iowa where he was employed as a baker at Parsons College. In 1967 he opened Sweetheart Bakery in Fairfield. He moved back to Clinton in 1973 to take over Sweetheart Bakery on Main Avenue following his father's death.
Chuck was a member of Prince of Peace Parish. He was a member and former president of the Lyons Business and Professional Association and the Iowa Bakers Association. He also served on the Board of Directors of the Retail Bakers of America. He enjoyed spending time with his family, fishing, boating, and camping.
Chuck is survived by his wife, Joanne; 5 children, Ron (Deb) Reid of Wayland, IA, Chuck (Brenda) Thornton of Clinton, IA, Linda Waddell of Clinton, IA, Steve (Kathy) Thornton of Fairfield, IA and Mike (Kim) Thornton of Thomson, IL; 15 grandchildren; 35 great-grandchildren; 3 great-great grandchildren; 2 brothers, Richard (Carol) Thornton of California and Dan (Carolyn) Thornton of Missouri; 2 sisters, Ruth Ann (Jim) Van Loo of Missouri and Mary (Phil) Hayes of Clinton, IA and several nieces and nephews. He was preceded in death by his parents, a grandson, Jeremy, and a son-in-law, Greg Waddell. In lieu of flowers, a memorial has been established.