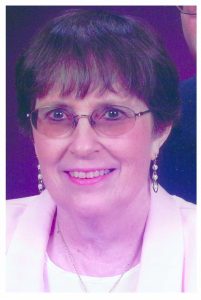 Bonnie Jo Dethmann age 80 of Clinton, IA, passed away Monday May 9, 2022 at West Wing Place in DeWitt, IA. Funeral service will be held 10:30 AM Thursday at St. John Lutheran Church, Clinton. Visitation will be held Wednesday May 11th from 4 – 7 PM at the Pape Funeral Home and Thursday 9:30 AM until the service hour at the church. Burial will be at Clinton Lawn Cemetery. Casket bearers will be Paul Koser, Zach Garrison, TJ Trujillo, and David Lorenzen.
Online condolences may be left at www.papefh.com.
Bonnie was born on Feb. 25, 1942 in Shelbyville, IL, the daughter of Joseph and Vera (Evans) Tripp. She married William Lorenzen in 1960 in Cooks Mill, IL; he died in 1996. She later married Donald Dethmann on July 19, 1997 in Clinton, IA. She was a secretary for over 25 years with the former Clinton Roofing & Gutters. She was a member of St. John Lutheran Church, where she sang with the church choir for over 50 years, bible studies, and Quilting Material Girls. She enjoyed sewing, singing, crafts, and crossword puzzles. She sang with the Clintones, member of the Red Hats Club, and was a lay pastor for St. John Lutheran Church.
Bonnie is survived by her three children, James (Tara) Lorenzen of Clinton, IA, Thomas (Rosemary) Lorenzen of Salem, IA, and Lisa (Paul) Koser of Lanark, IL; two step-children, Amy Dethmann-Crock of Tipton, IA and Eric Dethmann of North Liberty, IA; 9 grandchildren, Vera, Stephany,
David, Brittany, Chelsey, Nathan, Ben, Scott, and Torey; 13 great grandchildren; her sister, Anita Tripp (Brad Bradshaw) and her brother, David (Debra) Tripp both of Green Valley, AZ. She was preceded in death by her parents, her first husband – William, her great grandson – Noah, and her brother – Bernie.