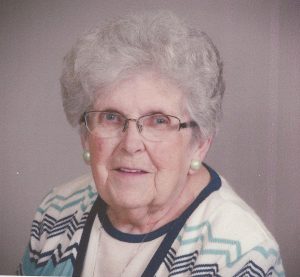 Alice Stuedemann, age 89, of Clinton, passed away Saturday, April 30, 2022 at Mercy One Hospital. Funeral services will be held at 10:30am on Monday, May 9, 2022 at St John Lutheran Church. Visitation will be from 9:30am until the service time Monday at the church. Burial will be in Clinton Lawn Cemetery. The Pape Funeral Home is assisting the family. There will be a time for fellowship and lunch at the church after the burial service. Masks would be appreciated indoors. In lieu of flowers, donations can be made to St John Lutheran Church.
Online condolences may be left at www.papefh.com
Alice was born on June 26, 1932 in Clinton, the daughter of Arthur and Vera Luckritz. She graduated from Lyons High School in 1950. Alice married Albert Stuedemann on October 1, 1955 at St John Lutheran Church, Clinton. She worked as a cosmetologist and owned West Haven Beauty Salon and was a bookkeeper for Swift & Co. She was a member of St John Lutheran Church, where she also served as bookkeeper. She was a leader for both Boy Scouts and Girl Scouts, was active in PTA and was an ardent supporter of her children's passions including Little League, Band, Choir and Drama. Alice and Albert were members of the Tag-Along-Trailer Club. They wintered at Woodlands Lutheran Camp in Florida for 20 years. Alice cherished her time in various women's clubs, some with lifelong friends from childhood. She enjoyed knitting, camping, reading, traveling, crafting, following her local sports teams and playing cards and games with her family.
Alice is survived by her three children, Gary (Mary) Stuedemann of Beloit, WI, Susan (John Potter) Stuedemann of Redlands, CA and Brian (Julie) Stuedemann of Marshall, MN; two grandchildren, Alicia and Michael (Morgan) and two great grandchildren, Madison and Matthew. She was preceded in death by her parents, her husband, Albert and her brother, Edwin.